Description
Mini Survival Kit for Travel Hiking Camping Outdoor Sports
18 Pieces Survival Kit for Travel, Hiking, Camping, Outdoor Sports
This Mini Survival Kit contains everything every survivalist or outdoor enthusiast would need.

Improved- safe and Practical
Cold steel military eater: black cold steel blade and black aluminum handle. Rust -free, permanent. Temperature compass of the military class. 5 in 1 Paracord bracelet with integrated compass, fire starter, emergency knife & pipe.
Breaking auto glass in an emergency & signal to the rescuer
A tactical pen is prepared for breaking the car glass in an emergency, can also be used for self-defense and normal writing.
Fits in backpack, light, durable and waterproof carrying bag
The dimensions of our professional survival equipment is 4.1 x 1.8 x 6.3 inches. This ultimate kit is compact enough to easily fit your backpack and car.
Perfect gift
It is necessary for camping, hiking, adventure, survival and in emergency situations. Her husband or brother would find it pretty cool as a stocking or a birthday present. And can also develop the child's ability to survive with the children, hike and camp. Give your darling a surprise.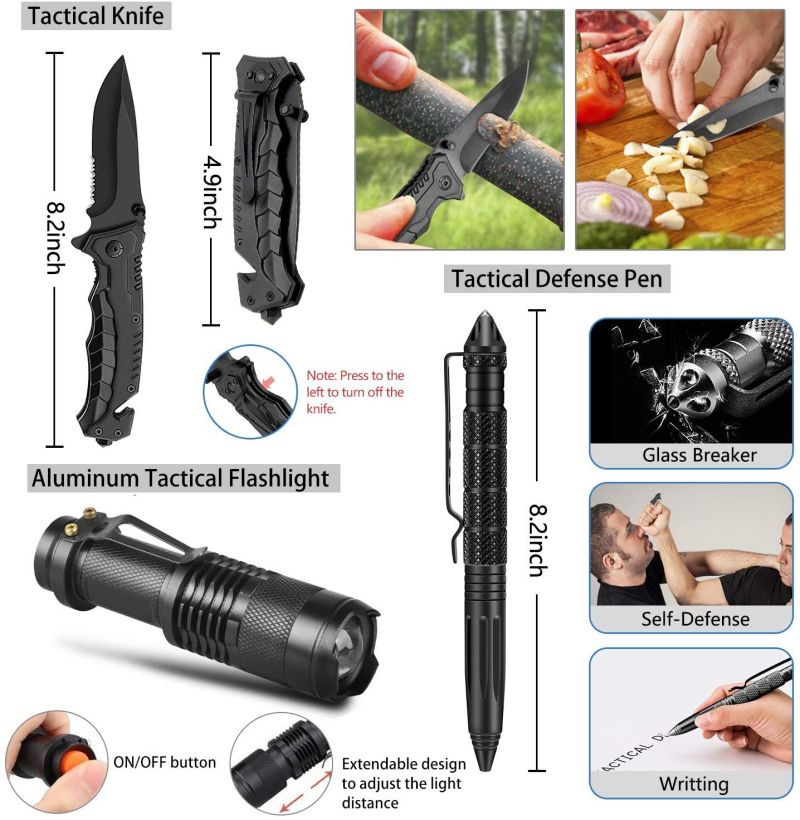 Using